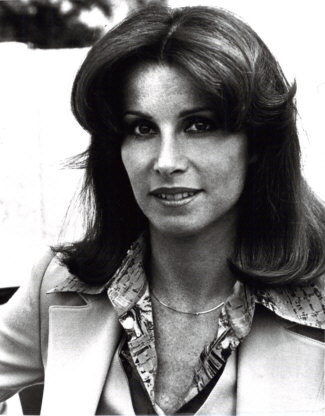 Stefanie Powers
"Feather Danton"
Playing a successful, glamouous, adventuresome and independent female professional is hardly difficult for STEFANIE POWERS, who in her own right possesses all those attributres herself. A multi-lingual world traveler and highly accomplished actress, Stefanie stars as lawyer "FEATHER DANTON" with Harold Gould in Columbia Pictures' lighthearted adventure series: THE FEATHER AND FATHER GANG.

Stefanie was born in Los Angeles and attneded Hollywood High School. She took dancing lessons through childhood and, though still underage, would audition for visiting theatrical road companies just for the fun of it. The game ended when Stefanie, while in her teens, tried out for the movie version of WEST SIDE STORY. Following several auditions and two screen tests, she won a small part as one of the Jets. Her school work interfered, however, and she was replaced in the role.

The time-consuming rehearsals for WEST SIDE STORY did more than whet her interest in acting. It caused her to lose an Art Center School Scholarship. With the forfeited scholarship died Stefanie's ambition to become a commercial artist.

Shortly after high school graduation, the hazel-eyed beauty landed a small role in the film TAMMY TELL ME TRUE. Parts in IF A MAN ANSWERS and PALM SPRINGS WEEKEND followed. Then Blake Edwards signed her to portray Lee Remick's sister in EXPERIMENT IN TERROR for Columbia Pictures which resulted in a five year contract and starring roles in THE INTERNS and DIE, DIE MY DARLING with Tallulah Bankhead. Other film credits include McLINTOCK, STAGECOACH, THE BOATNIKS, CRESCENDO, MAGNIFICENT SEVEN RIDE, and HERBIE RIDES AGAIN. Stefanie has appeared in over 100 TV shows, several movies made for television, and starred in the title role of THE GIRL FROM UNCLE series.

She is a traveler and linquist who knows Europe, Japan, South America, Mexico, Asia, New Guinea and the Middle East. Stefanie speaks Spanish, French, Italian, German, Polish, and Mandarin Chinese as well as extremely articulate English.

Stefanie's travels have led her to a new and interesting sideline career in primitive art. She has formed a partnership with William Holden and Richard Talmadge to import artifacts from New Guinea. They recently held their first exhibition of the original primitive art at Bloomingdale's in New York and are planning future exhibitions at quality department stores and museums across the country.

Stefanie is an excellent athlete whose favorite sports are tennis, riding and dancing. She also enjoys reading; her favorite author being Jorge Luis Borges, an Argentinian poet.
~~~~~~~~~~
Harold Gould
"Harry Danton"
HAROLD GOULD who co-stars as "HARRY DANTON," a charming and dapper con-man, was the epitome of academic accomplishment, having received his M.A. and Ph.D. in theatre at Cornell University.

Born in Schnectady, New York to postal worker Louis Goldstein and Lillian Goldstein, Hal was raised in the small town of Colonie, New York. A top student, Gould was valedictorian of his high school class at Roessleville High School. Active in his high school drama club, Gould never the less thought he would end up as an English or social studies teacher, and upon graduation he enrolled in Albany State Teachers College.

Gould left school after two years to enlist in the army during World War II. Serving in a mortar platoon, Gould saw combat in eastern France before being shipped to England to recover from trench foot. After recovery, Gould ended up serving in a railroad transportation company in France.

After his service ended, he returned to Albany Teachers College and began to pursue drama.

"I got a lot of encouragement," Gould notes. "I even got some letters from New York agents."

Gould performed in summer stock on Cape Cod before deciding to attend Cornell University to get a masters and doctorate degree in dramatic literature and speech. While at Cornell he met his future wife, actress Lea Vernon.

After graduating, Gould took his first teaching job at Randolph-Macon Woman's College in Lynchburg, Virginia. Gould spent three years teaching and doing stage work in Williamsburg, Virginia. In 1956, Gould had the opportunity to move to California as a professor at UC-Riverside. There he taught drama until 1960 when he decided to go to Hollywood to try his hand at acting.

"I always harbored the idea of going professional," says Gould.

Taking a room in Hollywood, Gould found that despite his teaching background that he could find little acting work. Gould struggled to support his family by working as a security guard on sets, working for the state employment division and teaching part-time at U.C.L.A.. Gould read around at various small theatres and eventually landed small parts on the series Guestward Ho! and in the film The Couch.

Gradually, Gould began to find work and his early films included: Yellow Canary, The Satan Bug, Inside Daisy Clover, and Harper.

During the 1970s, Gould's career began to heat up, and while appearing on stage in The House of Blue Leaves, he was spotted by The Mary Tyler Moore Show and cast as "Martin Morganstern," a part he would later reprise as a regular on Rhoda. At the same time his film career took off with the role of "Kid Twist" in the blockbuster The Sting.

Gould lives in Los Angeles with his wife Lea, and when not working he enjoys reading and golf.

~~~~~~~~~~
The "GANG"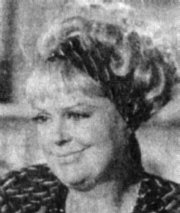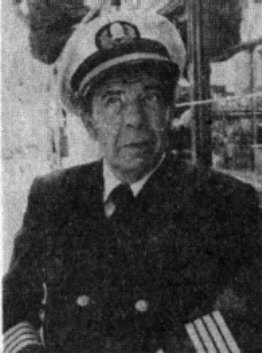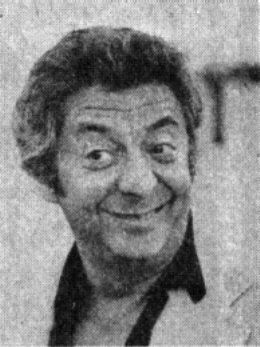 ~~~~~~~~~~
Left to Right
Frank Delfino as "Enzo"
Joan Shawlee as "Margo"
Lewis Charles as "Lou"
Monte Landis as "Michael"
~~~~~~~~~~